FEATURED Article

Play Together, Stay Together – The Importance of Having Fun
By: Kim Morse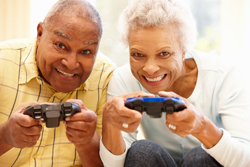 When couples first start dating they usually spend a significant amount of time engaging in fun activities together and spending quality time together. Most people believe that the fun and spark in their relationship will last forever, but over time with all of the work deadlines, shuffling kids, household chores,and the everyday boring routine, taking time to have fun often takes a back seat.
Why is it important to keep fun in the relationship?
Research from The University of Denver shows that couples who make time for fun activities tend to stay together longer:
"The correlation between fun and marital happiness is high, and significant. The more you invest in fun and friendship and being there for your partner, the happier the relationship will get over time", says Howard Markman, a psychologist who co-directs the university's Center for Marital and Family Studies.
Findings published in 2000 in the Journal of Personality and Social Psychology by psychologist Arthur Aron of State University of New York-Stony Brook and colleagues, showed that sharing in new and exciting activities is consistently associated with better relationships.
In one set of experiments, some couples are assigned a mundane task that involves simply walking back and forth across a room. Other couples, however, take part in a more challenging exercise — their wrists and ankles are bound together as they crawl back and forth pushing a ball.
Before and after the exercise, the couples were asked things like, "How bored are you with your current relationship?" The couples who took part in the more challenging and novel activity showed bigger increases in love and satisfaction scores, while couples performing the mundane task showed no meaningful changes.
So how do we make fun a priority on our relationships?
1. Schedule a Date Night. Put it on the calendar and stick to it. Don't get discouraged if your spouse forgets, take the responsibility to make sure it happens. Brain storm all the possibilities of what is a great date. List what would light your fire and share your lists. Then take turns making them happen.
2. Be open to trying new things. Get out of your comfort zone. Sometimes our idea of fun is different from our partner's idea of fun. You might like it much more than you thought you would! Remember, if your partner is trying something new for you, be supportive and be their hero.
3. Stay in the moment. What you may be feeling for your partner in the moment or dwelling on conflicts may threaten to ruin a fun activity. Agree ahead of time to focus on having fun during the activity and to discuss important issues at another time.
4. Become a team. Competition between couples can become an issue when participating in games or sport. If you are the competitive type, try and pick activities that you can do as a team. Accomplishments that you fulfill together will only strengthen your bond.
5. Take advantage of the simple things. Seemingly mundane moments you have every day can add a little fun. These can become rituals in the relationship. Rituals are important because they are the little ways that we connect every day. Try a silly twist to saying hello or goodbye or make it a habit to stop and watch the sunset on the way back from running errands. It doesn't have to be big, but it can have a big impact.
6. Go on a COUPLES RETREAT. A retreat is something you can schedule for just the two of you or with a Relationship Coach or Therapist. Retreats give couples the chance to rediscover each other. It can create an atmosphere of bonding that you can never get while in the middle of your everyday lives. You can uncover barriers and remember why you fell in love in the first place. Attending a retreat with Coach or Therapist gives you a partnership to help facilitate a change or shift to take your relationship to the next level while having FUN at the same time. What a winning combination!!